An Old Fashioned Guy Who Was Ahead Of His Time
Lucius Beebe in signature top hat and tails drinking champagne at the opening night of the Metropolitan Opera in 1946
In the annals of American dandies and bon vivants, Lucius Beebe stands apart. In his heyday as a chronicler of America's movers and shakers in the 1930's & 1940's he had one foot firmly planted in the 19th century and the other in the 21st.
A self described hedonist, he maintained a lifestyle befitting a robber baron (19th century titan): custom formal clothes from Savile Row tailor Henry Poole, travel by private rail car, and nightly rounds to NY's finest restaurants and nightclubs where he partied with, and kept track of America's high society. In fact he coined the term 'cafe society' to describe the people he wrote about which he famously numbered at approximately 500. It wasn't just about wealth and genealogy either, Beebe was interested dynamic people with passion and ideas who were doing things - people with glamour and style. He was kind of a 1930's version of Gawker or Reddit, celebrating people who dared to defy society's conventions about sex and politics. That's the 21st century part.
The estate where Beebe was raised in Wakefield Mass. purchased in 1854 by Beebe's great grandfather Lucius an industrialist who's interests included cotton, leather, lumber, real estate, building , and banking
A young Charles Clegg, Jerome Zerbe, and Lucius Beebe celebrating the publication of one of Beebe & Clegg's railroad books
Beebe - a young man about town with collar pin and bold plaid shirt. His wardrobe typically included top hats, bowlers, deerskin gloves, walking sticks, and gold pocket watch chains
El Morocco at 154 East 54th - now the Citicorp center was Beebe's base of operations for his column, and Jerome Zerbe's base of operations as house photographer. Along with being America's first celebrity paparazzo, Zerbe supposedly invented the vodka martini there
Zerbe's celebrity photos could be instantly recognized by the zebra stripe wallpaper a motif carried through keepsakes such as these matches
One of the most 'modern' things about Beebe is the fact that he lived an openly gay monogamous lifestyle in a deeply closeted time. Beebe is actually the guy who coined the thoroughly 21st century term 'partner' to describe his mate Charles Clegg with whom he lived with for over 30 years. See, Lucius Beebe didn't give a whit if someone called him a deviant Homosexual. Born extremely wealthy to a Massachusetts wasp brahmin family he didn't have to worry about what other people thought. Lucius had an education befitting his family's social rank and wealth, Harvard & Yale. He bragged about being expelled from both due to outrageous pranks and behavior having once gone up in a biplane to TP the Vanderbilt yacht.
After his schooling Beebe used his privileged perch in society to pursue his interests which included: luxury, fine food & drink, and glittering company. Along with his fellow night club chronicler Walter Winchell, Beebe was an early pioneer of the celebrity culture we inhabit today.
At the height of his popularity the 1930's some 1.5 million New Yorker's followed his daily column in the New York Herald Tribune 'This New York'. To American's struggling through the great depression, getting the inside scoop on the peccadilloes of the rich, famous, and glamorous was a much needed escape.
A young Beebe having a beer at one of his watering holes.
One of Beebe's great passions was alcohol and it's enjoyment - a 'toss pot' in his lexicon. Here is a recounting of a typical evening on the town from Michael Grace's Luscious Lucius: "Beebe was indulgent to the point of setting records. He was a champion of the noontime martini. The Plaza Hotel's Oak Room (men only) was a perfect haunt for his lunch dates. For dinner, he would dine at The Colony, "21," Quo Vadis, Sardi's, Le Pavillon, Baroque, or Luchow's. Sumptuous entrees accompanied by more martinis (Gin of course), bottles of Grands Echezeaux Burgundy from Romanee-Conti and Dom Perignon 1947 were the bill of fare. Clubbing at El Morocco or The Stork Club would follow an opening of the Metropolitan Opera. He'd wrap up this all night program by devouring a bowl of Texas Chili at some local Broadway coffee shop with the likes of Noel Coward. Then he would be off to write his column".
,
His Stork Club bar book is available on Amazon and is laced with witty barbs, retro dishes, and commentary on the delights of imbibing at all hours of the day
An illustration of the Stork club in the early 30's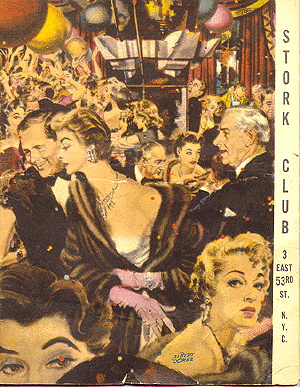 A depiction of the action inside the Stork Club. Winchell depicted on the right
Sherman Billingsly - Charismatic owner and proprieter of the Stork Club and former Oaklahoma bootlegger
Billingsly was a shrewd marketer giving away thousands of Stork Club ashtrays to his upper crust clientele. It was the must have item for the 'man caves' of the 30's & 40's
Jack & Charlies '21 club' one of NY's original 'speakeasys' with it's signature jockeys
Walter Winchell, Beebe's counterpart in celebrity journalism in the 30's & 40's who's base of operations was The Stork Club which he famously called "the New Yorkiest spot in NY" chatting with singer and fellow vaudevillian Al Jolson. Unlike Beebe, Winchell was a jewish immigrant out of the broadway show business scene who made his reputation by having the scoop on everybody
The NY venues of these society columns; The Stork Club, El Morocco, Charlie & Jack's 21 Club had their origins in Prohibition when the sale of illegal alcohol went underground into private 'clubs' - this is where name 'night club' comes from. All of these places started out as speakeasy's and were run by bootleggers. The secretive nature of speakeasies and the fact that the clientele was only served at the pleasure of the proprietor provided a discreet environment in which celebrities and the socially prominent could let their hair down and party. Beebe's circle included other prominent gay men of the period FBI Director J. Edger Hoover, his partner Clyde Tolson, and Jerome Zerbe who was the official photographer at El Morocco (where Beebe maintained residence for his column). Unlike today's internet troll laden celebrity scene, in those day's secrets such as Hoover's were kept by the socially prominent gossip columnists.
Clyde Tolson and J. Edger Hoover letting their hair down
Society photographer Jerome Zerbe at home
Zerbe famously shot a portfolio of domestic pictures of hollywood couple Cary Grant and Randolph Scott in the 1930's when they shared a house
Beebe & Clegg celebrating Christmas with their 150 lb. Saint Bernard - T-Bone Towser
In spite of his indulgent lifestyle, Beebe had a strong work ethic and worked very hard at his craft writing a regular newspaper columns and books. Beebe had an encyclopedic knowledge of 19th century American society, and the railroads. he was fascinated by the pioneers & tycoons who amassed great fortunes industrializing America - how they lived, their styles, habits and how they spent their money. He was deeply nostalgic of the grandeur of the previous century and maintained his lifestyle accordingly. Beebe and his partner Charles Clegg maintained two custom railroad cars in which they traveled by locomotive. In 19th century America the wealthy maintained private rail cars the way modern today's titan maintain private jets. When they wanted to travel the railroad lines would attach them to the end of their fastest lines. The cars were luxuriously decorated and had every amenity including full galleys with cooks to prepare private meals.
Beebe's book on private Pullman's (rail cars) a subject he knew a thing or two about
Clegg & Beebe being served a formal dinner aboard their rail car - The Gold Coast. Note the mirrored end wall making the space appear larger. The interiors were designed by Robert Hanley, a Hollywood set designer in a style which came to be called "Venetian Renaissance Baroque"
One of Beebe's restored Rolls Royce's on display at a Concours car show - posthumous
A photo of Beebe from the 1960's when he had moved his base of operations to San Francisco, and his column 'This Wild West' to The San Francisco Chronicle in front of another one of his Rolls Royce's
Beebe in front of The Gold Coast in 1949 - dressed casually
Beebe & Clegg on location researching one of their railroad books. Clegg took most of the photographs
Beebe's passion for railroads extended to his writing career. Over a 35 year period Beebe and his partner Charles Clegg wrote 35 books about America's railroads. The books are surprisingly readable. The thing about Beebe's writing is that in spite of his sometimes archaic subject matter and descriptions of a more formal society, it is all done with a light touch. His wit and gossipy style somehow make it very modern and democratic. He is sharing the secrets and foibles of the rich and prominent, with the common person. In the 1950's & 60's Beebe was a frequent contributor to Gourmet Magazine, The New Yorker, Town & Country, Holiday, American Heritage, Playboy, & Horizon.
You can visit Beebe's Gold Coast private rail car at the California State Railroad Museum in Sacramento
A collection of Beebe's gold watch chains and accessories from the estate auction after his death
The sitting room area of the Gold Coast showing the exuberant color palette and upholsteries
Beebe (on the right) with some serious railroad enthusiasts doing some 19th century reenacting in the 1930's
How to sum up Beebe? Was he the first 'Steam Punk'? His passion for Edwardian manners and cocktail culture in the midst of 1930's America matches our own - 90 years later. In Journalism his heirs might include scribes like Tom Wolf for his dandyism and keen observations of society's movers and shakers, or Dominic Dunn for lifting the curtain on the foibles of the rich, or George Plimpton for his wasp pedigree and thirst for adventure. The fact is Lucius Beebe was one of a kind. In a time when we have hundreds of networks and media platforms jammed with Bobby Flays, Anthony Bourdains, and Kardashians we don't have anyone as educated, stylish, or witty to tell us how to really live.